Part 3: Public Charging by Roaming Users
In our last post we took a look at how spontaneous users find a charging connector more or less at random.
Now we will look at the developments of roaming for public charging connectors. We will outline possible operator models for charging infrastructures.
Charge Map – the Way to the Charging Connector
The obvious thing to do is to use a charge map such as from Open Charge Map: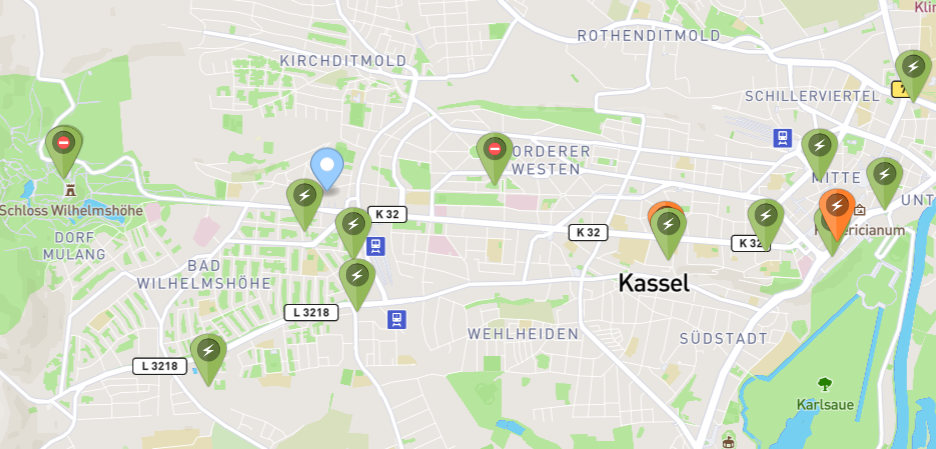 Operators can publish charging connectors there with the following information:
geoposition and adress
max. power in kW
supported plug-types
business hours
options of authorization
Similar to Wikipedia, a "community" of volunteers is constantly adding text and images. Drivers can access this data whenever they want to navigate to a charging connector: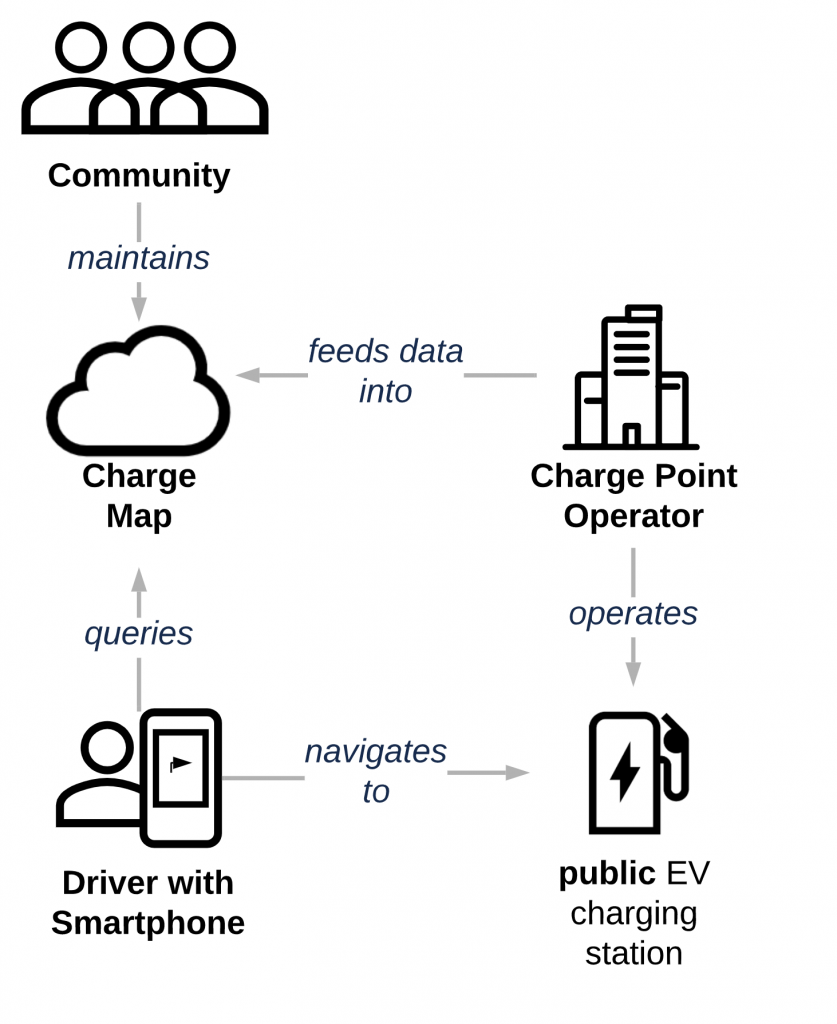 The driver can often define their route(s) and display charging connectors along the way.
However, the following hurdles remain for the driver:
Is the charging connector available?
How to authorize?
What are the costs and how to pay?
So real-time information about available charging connectors and easy access to them is needed. This is being provided by:
Roaming-Plattforms as Intermediaries
The term "roaming" is known from the use of foreign mobile-phone networks regardless of one's own contractual partner (provider). In the context of electro-mobility, it also enables the use of external charging stations.
Fortunately, it has not been a monopolistic proprietary solution of a single, large operator that has prevailed, but rather various "roaming platforms".
Well-known roaming providers in Germany are Hubject, Plugsurfing and Ladenetz. But also the french platform Gireve is also very well known across Europe.
These platforms offer software interfaces for publishing the charging connectors and for continuously updating their availability. Unfortunately, there is still no unified standard for communication with these providers. An operator (CPO) must therefore operate different interfaces: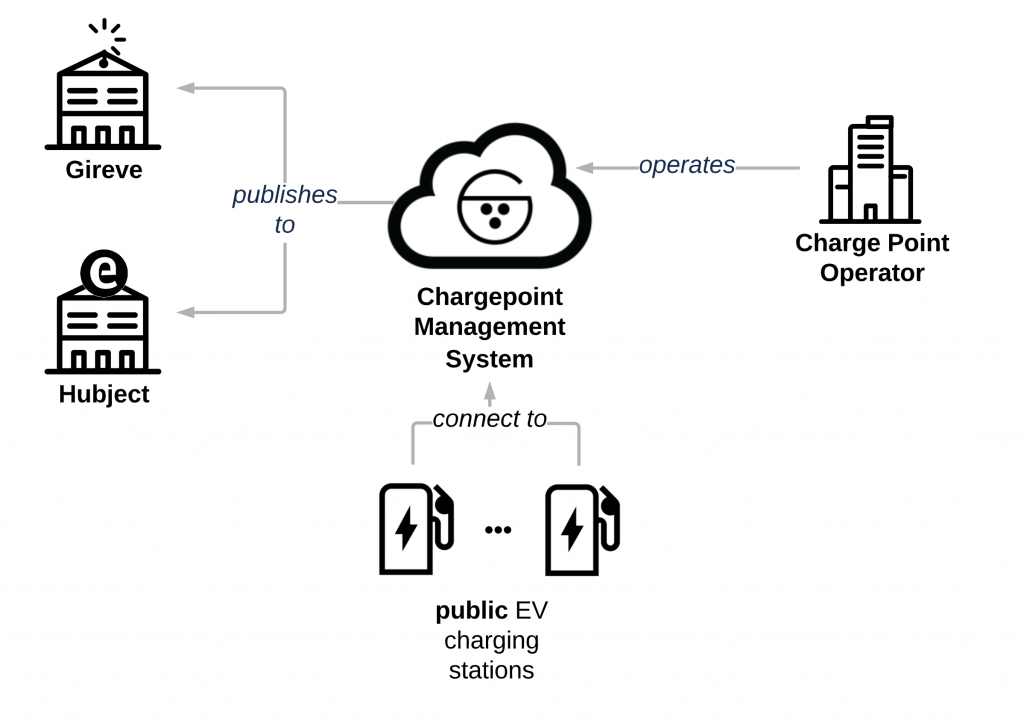 So, how does the driver get to the charging connector? For this we need a third role, the
E-Mobility Provider and a Access-Medium
In the previously discussed use cases for non-public charging or ad-hoc charging, the operator (CPO) simply assumed the role of EMP by handing out RFID cards or by sticking QR code stickers onto the charging connectors: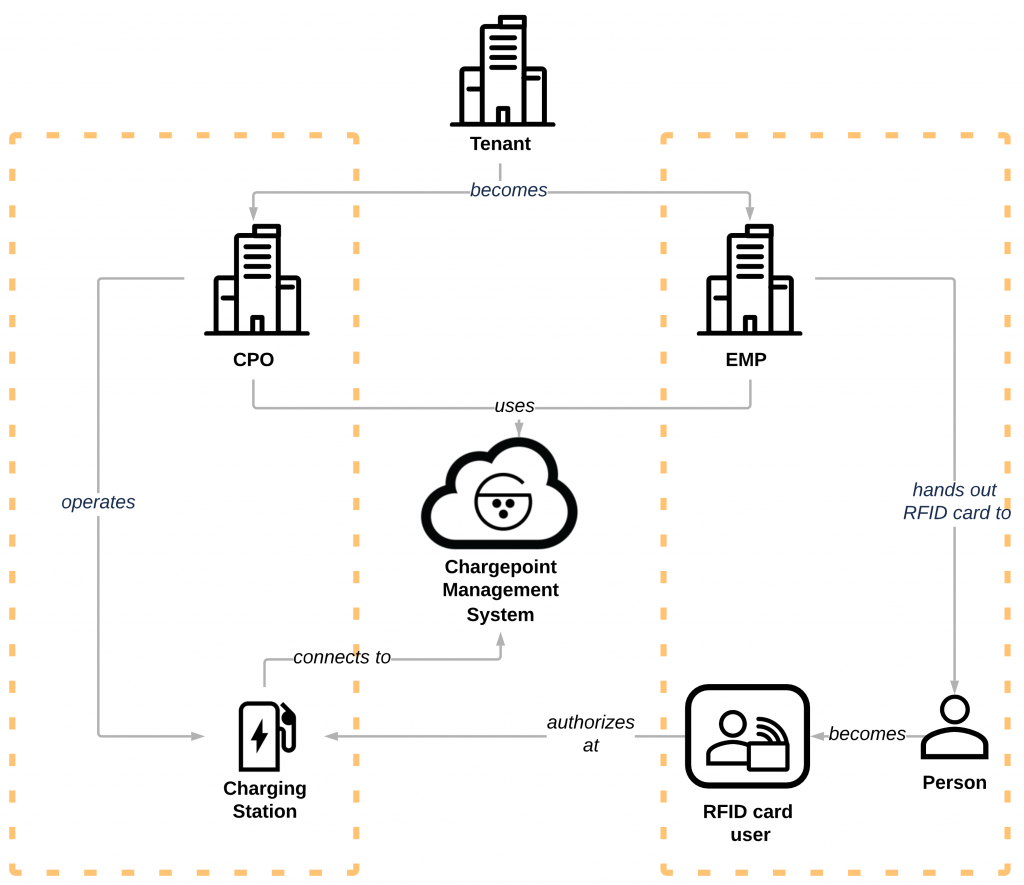 With roaming, the role of EMP becomes more important, because the drivers are contractually bound to one or more EMPs that are supposed to give them access to third party charging infrastructure (the CPOs).
They do that via a usage medium, usually an RFID card (often called an "EMP card") or a smartphone app:
The EMP smartphone app solves the hurdles of public charging that have been mentioned above:
Is the charging connector available?
-> Status and business hours can be checked in the app.

How does the user authorize themselves?
-> The app starts the charging process.


What are the costs of the charging progress?
-> Price rules and payment options can be checked the app.
As a bonus, the app can handle the navigation to the charging connector as well: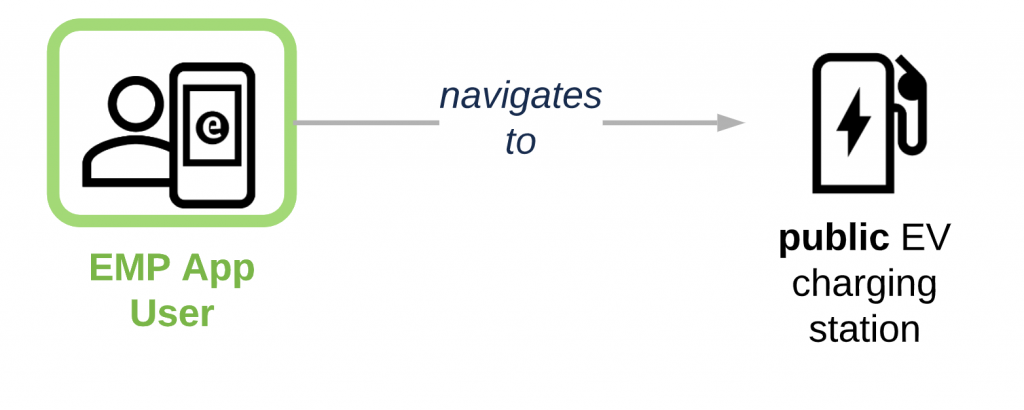 By choosing the right filter-criteria and a bit of luck, this connector is
compatible regarding the plug-type
available
close by
inexpensive
The car as a usage-medium
The whole concept does not only apply in the B2C area, but also in particular for B2B fleet solutions. Which brings us to the third access medium. which in the long run might become the most important: The vehicle itself. The manufacturers BMW, Daimler and Volkswagen (VW) and others are founding shareholders of Hubject. They are also working on integrating the "EMP intelligence" directly in the car. At the same time, Tesla proceeds on building its own charging infrastructure. Systemically both cases look like this: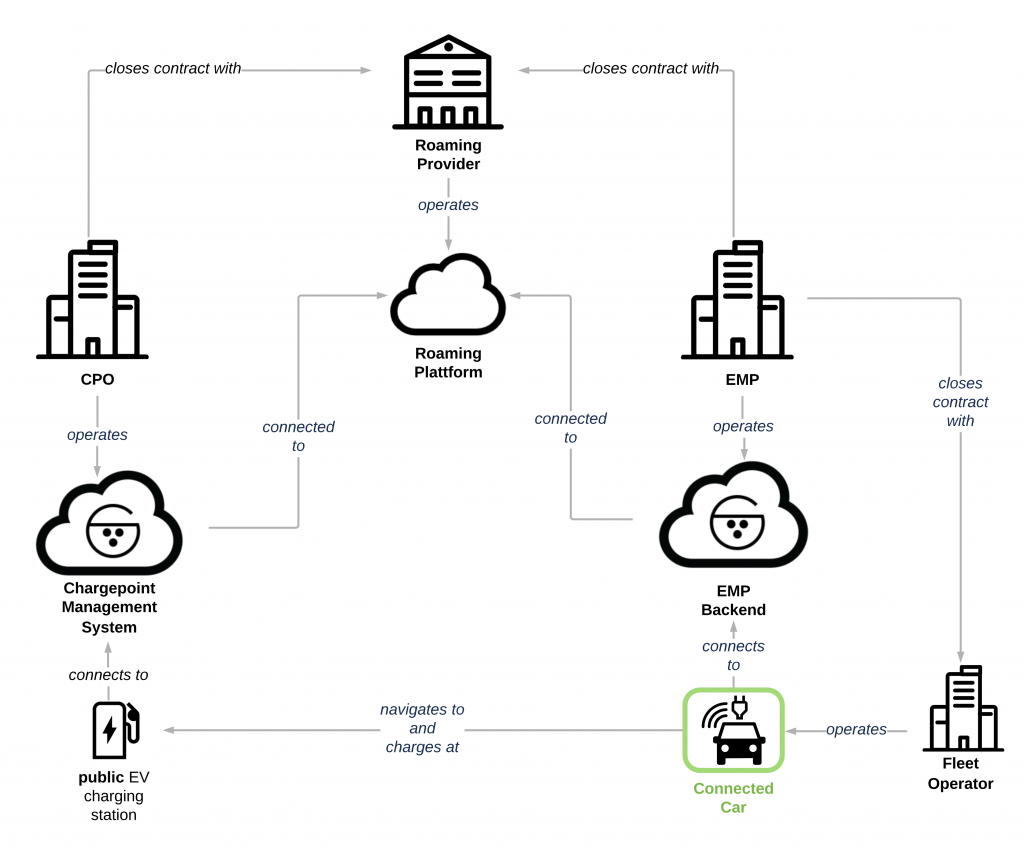 For finding free charging connectors, this has already been solved well with the navigation system. For authorization and payment there is still a long way to go, although the ISO-15118 standardization has already created a good basis that is still being refined.
We will have a closer look at this and at "smart contrats" in a future blog-post.
Further business-models for operators
Knowing the roles and responsibilities, clients and sub-clients, CPOs and EMPs, access and usage media, we can now design various market models and "Smart Business Networks". Here is an excerpt:
Can each organization act as an EMP to its customers?
Yes, of course! You can also connect any other Sub-EMPs to your system.
Can CPO- and EMP-solutions be combined in a single platform?
Yes, of course!

If you plan do do this, y

ou can (and will want to) make these known to each other and offset them, which is often referred to as "internal roaming".




Of course, this is only possible within your own marketplace with direct business partners who either use the same system (as in the picture) or who couple their IT systems with one another (not shown here):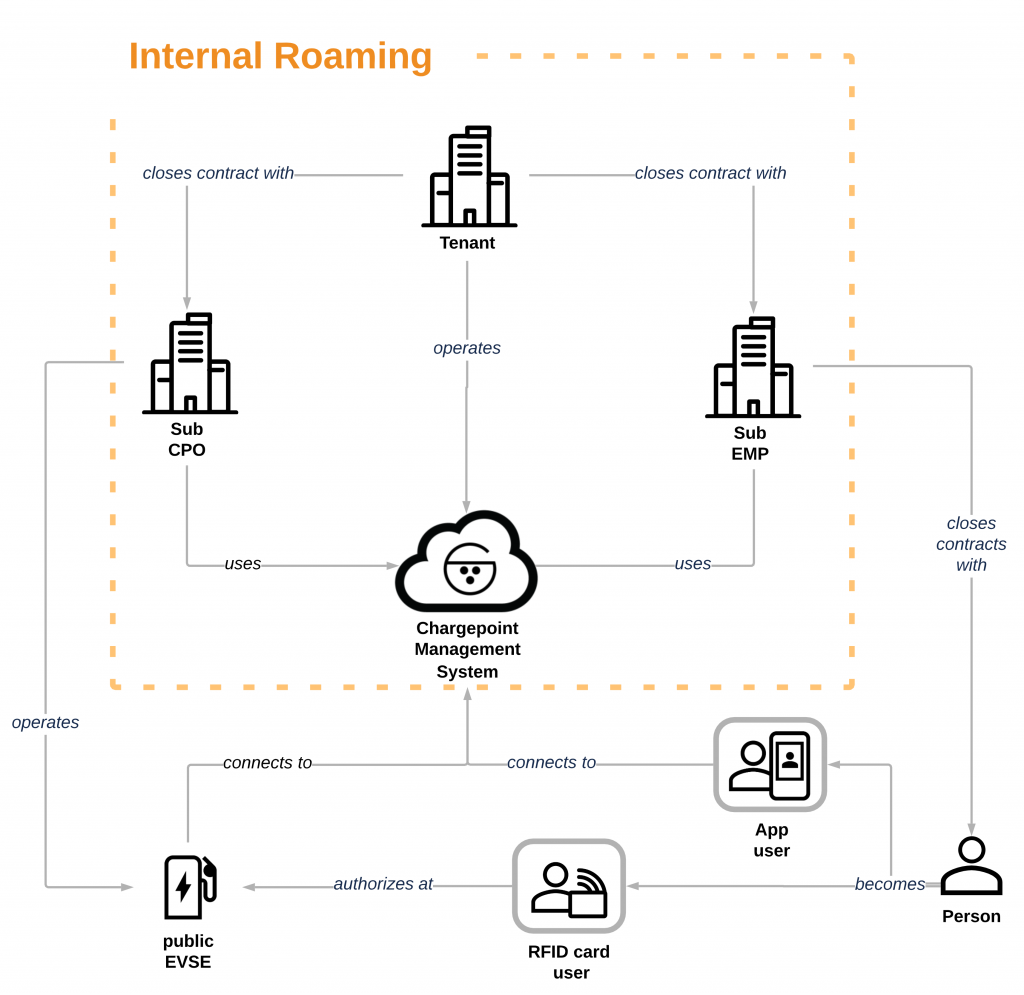 All those approaches can of course also be combined, so the question arises …
Can you combine internal roaming (with your own business partners) with roaming via platforms?
Yes, of course! As an addition to your own marketplace, the advantage of a roaming platform is precisely that you don't have to conclude every contract in advance, i.e.
a) integrate third-party users
In order to allow external users or users of third-party EMPs to access their own infrastructure (or that of the sub-CPOs), the CPO will therefore usually also choose the route via one or more roaming platforms.
b) enable own users
In order to allow your own users (or those of your sub-EMPs) to charge using third-party infrastructure, you (as the provider / EMP) will need one or more roaming platforms too.
You can make a contract with each of the roaming platforms directly, or ask others to bundle their functionality, so to speak as a "meta platform" (analogous to meta search engines).
The possible solutions are probably be as diverse as the market itself.
Not enough?
We hope that we made you aware about the possibilities of Smart Business Networks of electro-mobility. If you want to know more please contact us at any time.